Below is a listing of legitimate Free Paid Survey sites that for most of them I have participated in and received payment from. Others I have listed because they are associated with legitimate companies that I have experience with. For more info about participating with market research companies, check out our series about Free Paid Surveys. You will find more in depth information on what to look for in a survey site, how to avoid being scammed, and tips for successful survey taking. Remember, the more companies you sign up for, the more opportunities you will have to earn some extra money.
GlobalTestMarket
GlobalTestMarket is a WORLDWIDE survey panel that pays you in "market points" for the surveys you take. Each "market point" is worth 5 cents, and even if you don't qualify for a survey, they usually give you 5 "market points" so you get 25 cents just for trying to take a survey. They can add up fast! You can redeem your market points for a check. It does generally take 6-8 weeks to get your check, but they do payout. This is hands down one of my favorite survey panels.
Toluna
Toluna, I believe, used to be called 'Your Two Cents' and was always a reliable survey panel. You are awarded points for taking surveys that are redeemable for shopping vouchers, check or even cash by Paypal. You also earn points for participating in polls and topics and other activities, including creating your own opinion polls, directly on the Toluna site. I haven't spent a lot of time over there since they switched over but it looks like there are a lot of opportunities to earn points.
 The National Consumer Panel
The National Consumer Panel is part of the Nielson Company, who is the world's leading marketing information provider. You can't get any more legit than Nielson. The great thing about this panel is that as long as you participate every week, you earn gift points redeemable for great prizes. You participate by scanning your grocery purchases each week with the hand-held scanner they provide (absolutely no cost to you) and uploading the information to Nielson. There is no screening out of surveys and being frustrated that you don't seem to qualify for them. You control your level of participation.
My Survey
My Survey is a consistent and reliable survey company that pays you in Reward Points for EVERY survey that you take. No matter what, each survey will have some amount of points attached to it, and then if you qualify, they will offer you additional points to take the longer survey. They also have a monthly sweepstakes that you gain entry to by taking surveys as well. I have participated in quite a few product tests through My Survey as well, not only do they send you products to try, you get points for taking surveys about the products. The My Survey rewards Points can be traded in for merchandise, gift cards or cold hard cash via check. The redemption process is not super fast, but they do deliver.
Ipsos i-Say
Ipsos i-Say is a survey company that has been around a long time and evolved from feedback from their panelists. They used to compensate you only in sweepstakes entries but now their program pays you in Reward Points for each survey you take. You can redeem your points for cash, charity or American Express gift cards. I admit I haven't taken too many surveys since they changed over to the rewards program, but in my experience they are a reliable company. They are currently revamping their website and do not have a panelist portal for you to login and view your points, so until the launch in March they email you your points totals every 2 weeks. You can still redeem your points on their current website.
Valued Opinions
Valued Opinions pays you in cash that you can redeem for merchandise, or gift certificates from places like Amazon.com. This is a newer survey company but has gotten very good reviews and feedback from the online survey takers community. I have not yet redeemed my earnings for a reward yet (I have $14 and you need $20) so I can't comment on that, but SurveyPolice.com has verified them and it has great scores in their rankings. People do recommend choosing the Amazon.com gift certificate when redeeming your earnings because you receive the gift certificate immediately via email.
Synovate Global Opinion Panels
Synovate Global Opinion Panels has always been high on my list of favorite survey panels. I receive a lot of surveys from them and their rewards (points redeemable for a check) are very reasonable per survey. Synovate also has monthly sweepstakes for their panelists. I have also done quite a few product tests with Synovate. This is a global panel recruiting members worldwide.
Mindfield Online
Mindfield Online is a survey company that pays you cash redeemable for a check for every survey you take. They let you cashout with as little as $5 in your account. This panel is open to the US and Canada. I don't receive a ton of surveys from them, but the ones I have gotten paid very reasonably. I routinely receive surveys that pay anywhere from $1 to $8 and seemed to qualify for many of the ones I receive. They also have sweepstakes for their panelists in addition to the cash incentives.
American Consumer Opinion Panels (ACOP)
American Consumer Opinion Panels (ACOP) is a very established market research company that despite its name accepts panelist from across the globe. They don't send a ton of surveys, but their screeners are short and if you qualify, I have seen surveys that pay upwards of $25. They don't waste your time, they have been around a long time and are legit, and they are reasonable with their incentives.
e-Poll
e-Poll is a fun survey company that pays you points redeemable for gift cards or even for cash that they will put directly into your Paypal account. Most of their surveys seem to revolve around television and pop culture and overall are very interesting. I do think MALE PANELISTS will do really well with this one. Their banner doesn't look like much, but they are legit and pay very fairly per survey (most surveys are pretty short).
Opinion Outpost
Opinion Outpost is a panel that has members world-wide. The seem to send a lot of survey opportunities and pay fairly. You can redeem your points when you have as few as 50 ($5) for a check by mail or an Amazon gift certificate sent instantly. I have found that it is quick and easy to build up points with this company.
SurveySavvy
SurveySavvy is an established, respected survey company that pays you cash for each survey that you can redeem for a check to be mailed to you. They don't send a huge amount of surveys but they are legit and fair.
Pinecone Research
Pinecone Research is one the original trusted paid survey companies. In the past they have been rather elusive, and sometimes it takes a few tries before you qualify depending upon who they are recruiting. I believe they pay $3 per survey and you receive your payment a few days after taking the survey. They are do product test. Top-notch company.

OpinionSquare
OpinionSquare is a survey company that has been around awhile.  They pay in points per survey and are fairly generous with them.  If you don't qualify for a survey you usually earn a "token" for a jackpot spin when I almost always win points, and they add up fast.  They have a HUGE catalog of prizes and I even once won an expensive coffee maker from them.  I highly recommend this company with the caveot that some people have said that they had to install tracking software through them.  I have never installed any software or anything to take their surveys and receive my rewards.
Harris Poll Online
Harris Poll online is similar to OpinionSquare in the way it works. It has been a while but I had received a number of great items from them.
SurveySpot
SurveySpot did not have a ton of surveys when I was active with them but they were legit and did payout.
Swagbucks
Swagbucks is a search portal that awards you points for searching that you can trade in for prizes or gift cards. I've gotten a few $5 Amazon GCs through them.
Un-researched companies
Additional surveys or offers you may be interested in are below.  Please note that these are offers or companies I am not familiar with so join at your own risk.  I have listed them because I am not as active in the survey community as I once was and I'm sure new legit companies have sprung up.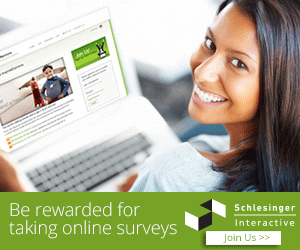 Give Us Your 2 Cents: Your Opinion is needed for an important survey. Complete the survey and get an entry to a $1,000 sweepstakes. Start Survey NOW! Click Here
For a more complete list and even reviews and ratings, we encourage you to visit SurveyPolice.com and Free Paid Surveys.net.